Pollinator Garden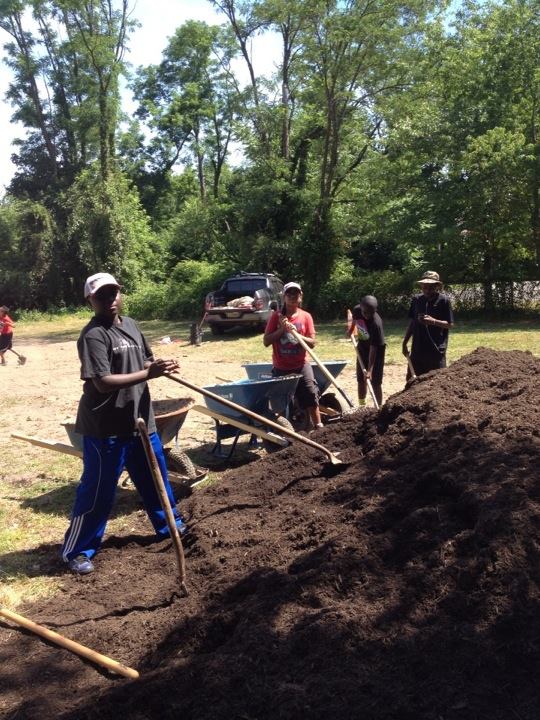 In June of this year a Pollinator Garden was added to the community garden at Liberty Park. It was introduced us by Neptune's Shade Tree Commission. They are a great group of people who are not only dedicated to trees but also the preservation of the earth. They came out with their volunteers to plant native flowers and scrubs to help preserve that bee population which in turn helps the plants. We also constructed composting bins.
Many Thanks to Mindi Arcoleo and Julie Soliel , for coming up with the idea and designing the project; and to the township administration for recommending our garden as the place to do it. Along with the Shade Tree volunteers we had help from residents and the Boys Scouts of Second Baptist Church. It was a true example of "Unity in the Community". At first we were nervous about the flowers attracting bees, but it was  a real learning experience for us all. The bees came out, did their job and left us alone. WOW, Mother Nature is amazing.
Community Garden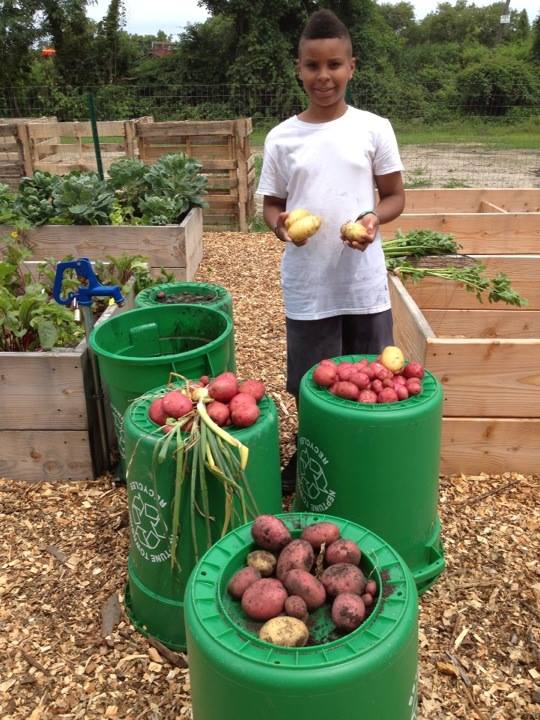 This is our second year for the community garden at Liberty Park. Aside from the bugs that attacked the greens we had a very successful season. More visitors came out this year to pick vegetables and share their knowledge but we still need additional volunteers to help with its care and maintenance.
Thank You to the African Student Union and the Environmental Studentsfrom Neptune High School, Isaiah from Green Grove, and the Boy Scouts from Second Baptist Church for helping this year. And to Rutgers Master Gardeners Jeanne Patterson, Diane Allen and Elaine Alston, Thank you for your help and advice throughout the season. A special Thanks to Hank Griffin, Bill and Linda Johnson, and Kathy Holland, for your loyal commitment to the garden and to Joyce Jackson, and the Ferguson Family for keeping a watchful eye when we were not
there. We will begin meeting again in February 2015. If you're interested in helping, call the MURC Office at 732-988-4400. Leave your contact information. We will get back to you.
Midtown Beatification Day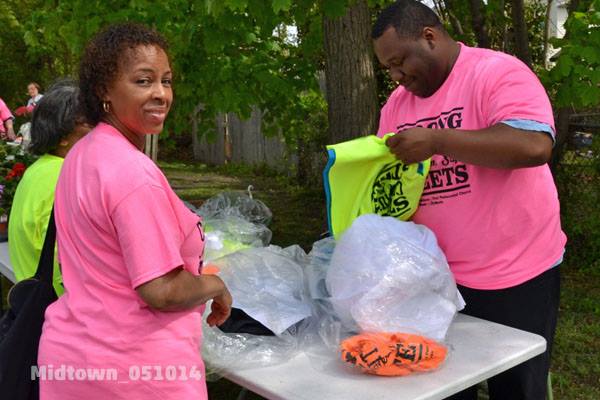 Midtown Beautification Day
Saturday, May 10, 2014 – Liberty Park
"Strong Communities Make Clean Safe Streets"This is our 8th year doing Beautification Day and it's only getting better. We again focused on Liberty Park with attention given to the Community Garden. About 50 volunteers cleaned up around the garden and in the playground area; pulling weeds, raking, plant Irises and picking up trash. The Rutgers Master Gardeners were on there to give tips on gardening and helped children pot plants for Mothers Day. The materials for potting were donated by Neptune Home Depot. Plants were sold by MURC Trustees to help support the community garden and residents were asked to sign a pledge to receive a free "Litter Free Zone" yard sign.
MURC would like to thank the following businesses, groups and organizations for coming out to help and for donating items, to make the day a SUCCESS.

Rutgers Master Gardeners
Volunteers from First Pentecostal Church, Neptune
Neptune Home Depot
Neptune Public Works Department
Neptune HS – African Student Union
Neptune HS – Environmental Club
Cub Scouts & Boy Scout – Troop #281

Second Baptist Church, Asbury Park
Volunteers from Midtown Senior Apartments Residents Council
And to all the Township Officials and local residents that live in the area

THANK YOU FOR YOUR SUPPORT!!
Summer Job Program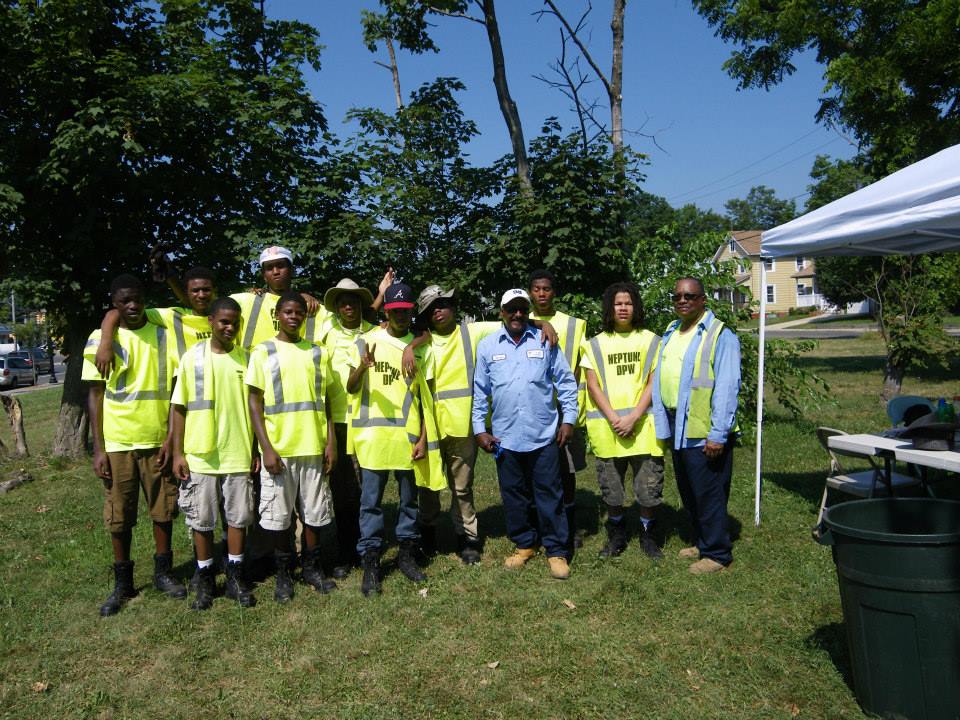 This is the second successful year for NJDOT Urban Gateway Summer Work Program. We again focused on landscaping with in and around Neptune Blvd., Corlies Avenue and the Community Garden at Liberty Park on Monroe Avenue.
The high school youth employees were also given job readiness, safety and life skills training. Fridays were dedicated to speakers from various professions.
The 8 week program ran under the supervision of Public Works foreman Hank Griffin with the help of Program Assistant Charles "Chappy" Williams. We were fortunate to have the landscaping design and tree prunning expertise of Mindi Arceleo and Lisa Simms from Neptune's Shade Tree Commission.
Our youth participants this year included:
Mikel Barone
Ahmad Coleman
Jahdasia Garrett
Kyle Langley
Elijah Mancle
Tyler Mathis
Joel Ruiz
Isaiah Watkins
A special Thanks to Neptune Township's administration, staff and Public Works Department for working with MURC to give summer jobs to our youth.
Job Readiness Program
Sponsored by the Township of Neptune and MURC
Come meet Anita Lentz, MURC's Career Advisor for our "Count Me In" Job Readiness Program. She will be working with qualified young adults who are ready to get their life on track. They must be between the ages of 16 and 21; have either dropped out of school or have graduated but need positive direction. Anita will get them ready to secure employment, help them to obtain their GED and further their training toward a career of their choice. There are income eligibility requirements. Call the MURC office Monday – Friday between 10am-2pm to make an appointment. Anita will be happy to help you.
This program is funded through the county's Workforce Investment Bureau which MURC is proud to be
a part of.
Thank You to the performers that put music into the air at Midtown Commons Park.
The El Maroc Band
Tommy Bigelow
John Bouie
The Mayor Players & Kevin Sanders
Liberty Park
Back To School Party
This slideshow requires JavaScript.
Our 4th Back to School Party at Liberty Park was again a wonderful day that was well received by the children that came out to participate. Over 300 Back Packs were given away to families needing help with supplies for the upcoming school year. MURC wants to say THANK YOU to all our sponsors and contributors that helped to make it a complete SUCCESS. A special thanks to Pastor Paul Brown, Sister Delores Massecott, and Sister Sondra Stephens from First Pentecostal Church in Neptune and Neptune Police Sergeant Gregory Washington for all your help with organizing the event
Event Sponsors
Alpha Kappa Alpha Sorority, Inc
Carmella's Luncheonette, Rt. 33, Neptune
Neptune Township FOP #19
Neptune Township PBA #74
Saker ShopRite, Neptune
New Jersey Natural Gas Company, Wall
McDonalds – Corlies Avenue & Rt. 66 in Neptune
Jane H. Booker Family Health Center, W. Lake Ave. Neptune
Central Jersey Club of the N.A.N.B.P.W.C.
St. Stephens AME Zion Church, Asbury Park
Women's Ministry of New Hope Baptist Church, Asbury Park
Union Baptist Church, Neptune
Redeemer Lutheran Church, Neptune
Roland & Lynne Simon
Patricia & Steven D'Andrea
Linda Johnson
Candice Wells
Our contributors included: Prevention First, Meridian Health's Dr. Bernard, Neptune Library, NOBLE, PNC Bank West Grove Branch, Sabrina Blair and the God Squad, Neptune Police Department, Liberty Volunteer Fire Department, Monmouth County Parks Dept, NJ Youth Corp @ Interfaith Neighbors, NJDOT Summer Youth Workers, my volunteer cooks and community people that simply pitched in to help out, YOU ALL ARE THE BEST!!!
Thank You to all individuals, groups, agencies and organizations that
helped to make the Tree Lighting a success
A Specials thanks to:
Neptune Township Committee Members – Randy, Eric and Kevin
MURC Trustees and Staff – Gail, Wesley, Nate and Anita
Neptune Recreation and Public Works Departments
Neptune Police and EMS Departments
Liberty Volunteer Fire Department
Mindi Arcoleo & Ocean Wholesale Nursery for donating the tree
Charles "Chappy" Williams for playing Santa
Staff and Students from Neptune HS and Middle Schools
Midtown Senior Apartments Volunteers (Tenants Association)
Neptune Education Association
Jeans & Jewels Fundraiser